Chaim Goldman
Repairing the Breach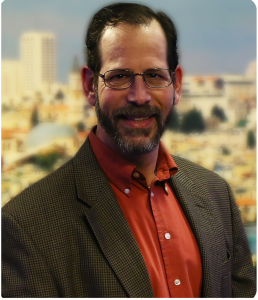 Chaim Goldman was born and raised in suburban Philadelphia as a Reform (secular) Jew.  Being culturally Jewish (including keeping the holidays and getting Bar Mitzvahed) was always an important part of his family identity, but not faith was not.  In 1995, he became a Believer in the promised Messiah of Israel, Y'shua (Jesus), and immediately began to search out and study, and eventually teach on, the Hebrew roots of Christianity.
Chaim is a serial entrepreneur with a professional background in TV production, as well as sales and marketing.  His great passion is to help others tell their unique story, including teaching the Bible from a Hebraic perspective.  "The greatest story never told!"
Ever since he became a Believer, his heart as been to serve the Kingdom with all his talents, including his businesses.  From ProIsrael Production and Israel High Tech TV (both based in Jerusalem), to Biblical Health Television, to now Kingdom Consulting, Chaim's work challenges the Church to walk in God's full calling.
Repairing the Breach is a ministry that Chaim was inspired to walk in more than 18 years ago, and he has integrated this calling into his life in many ways, including our newest ministry work, Hebraic Home Fellowships, and the Kingdom First Leadership Training Program.
Chaim, his wife of 15 years, Dr. Kim, and their six children are currently based in Miami, Florida as they finalize preparations to "take the show on the road" once again with their 2017 American Tour.  Their entire family is committed to fulfilling the Repairing the Breach mission, for such a time as this!